Online community generated courses like Udemy have started to gain significant adoption and introduces many courses for Real Estate Agents
I am excited about platforms like these, and see them as potentially major disrupters in their own right over time, taking on the sclerotic US licensing, credentialing, and even higher education systems.
Udemy is not alone, either. There are numerous other online course marketplaces like Skillshare, LinkedIn Learning, and Udacity
I think Udemy and LinkedIn Learning are the most relevant to residential real estate brokers, and look through what both have to offer below.
Pros and Cons of Courses
Unlike blogs, podcasts, and even YouTubes, a good course should be the complete picture of whatever you need to do. You should get not just a piece of the puzzle, but all the components you need to implement a new best practice or manage a function of your business.
That's why, unlike the other mediums, these courses aren't generally free.
The biggest con of these courses is that our industry is changing constantly. While some principles of real estate are timeless, many best practices are constantly changing, especially as applies to technology and marketing. Courses are updated and new ones added all the time, but still can quickly become outdated, especially when talking about tech and marketing.
As such, I recommend podcasts to help keep your skills sharp and current. The podcasting model relies on producing fresh, consistent, and therefore current content.
Another con is that these courses also generally don't count any points toward your continuing education and license requirements.
But that doesn't mean you can't benefit from a course as well! I especially recommend it if you are looking to expand into new skills, like programming, WordPress, photography, or other technical skills.
Udemy
Real Estate Math Made Easy: Pass Your Licensing Exam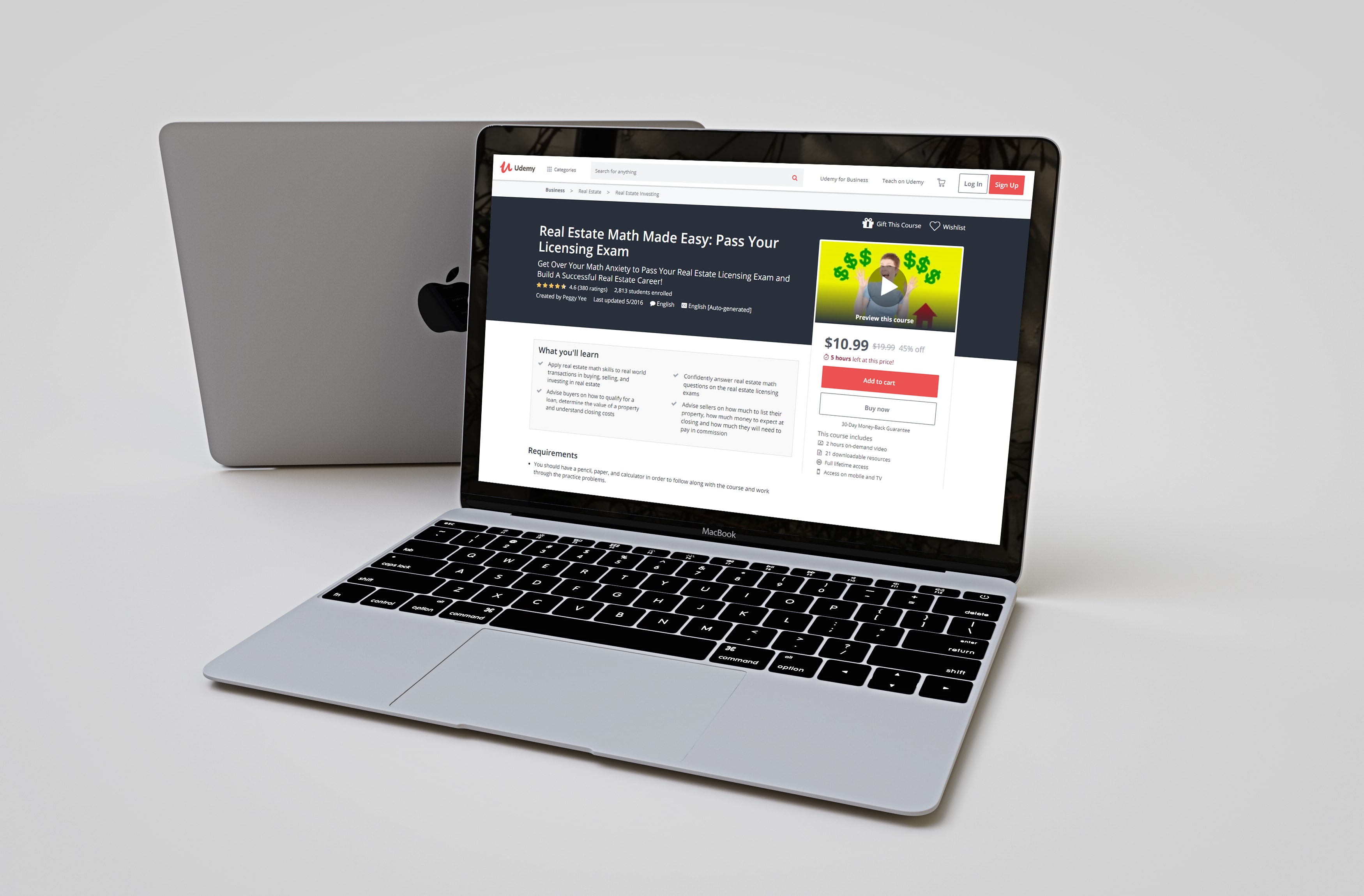 Not just for folks taking their license exam. Getting the math wrong on a contract can be lethal to your career.
This course promises:
Apply real estate math skills to real world transactions in buying, selling, and investing in real estate
Confidently answer real estate math questions on the real estate licensing exams
Advise buyers on how to qualify for a loan, determine the value of a property and understand closing costs
Advise sellers on how much to list their property, how much money to expect at closing and how much they will need to pay in commission
Productivity and Time Management for the Overwhelmed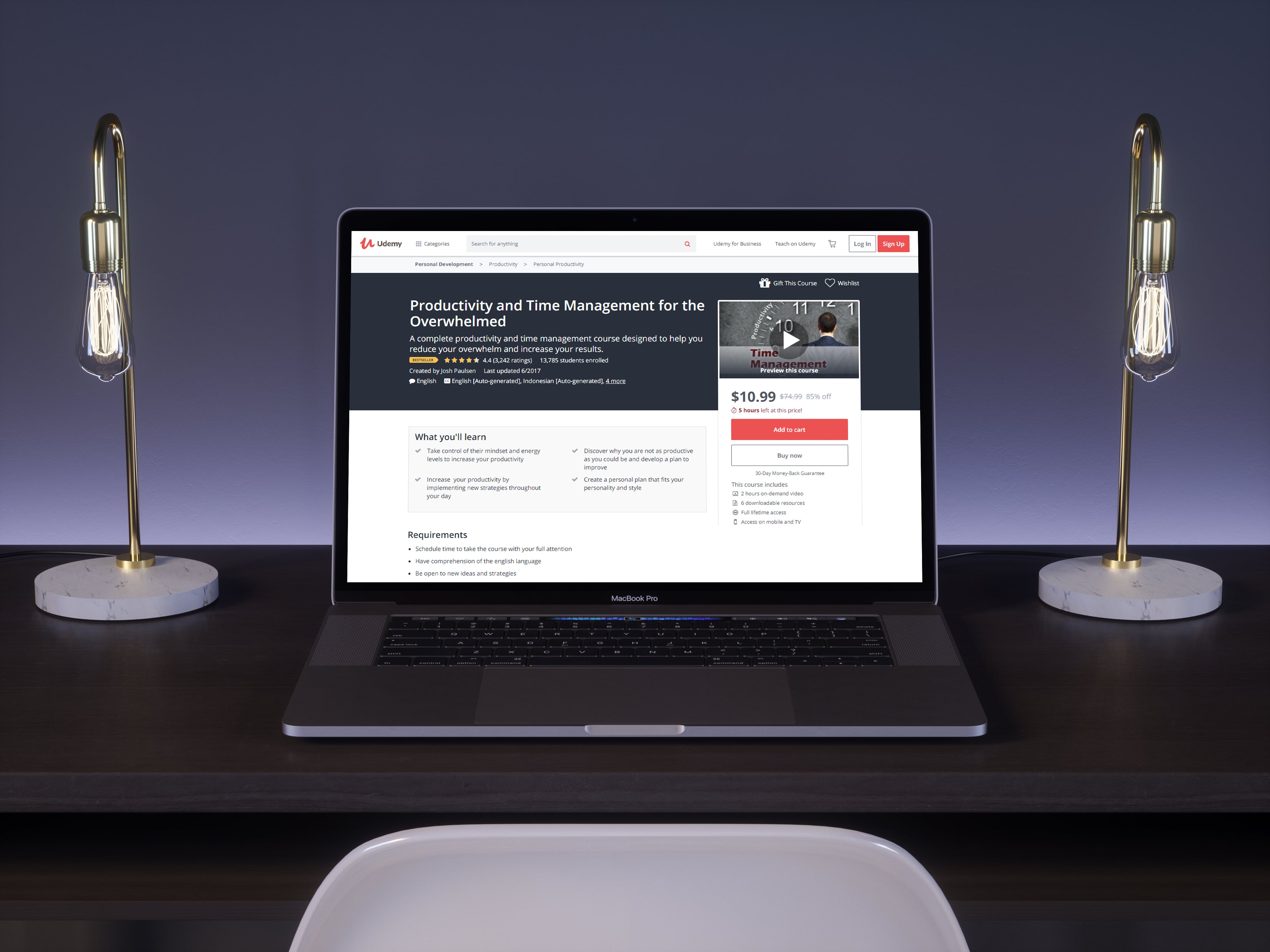 A recurring theme I hear from agents needing help is problems sorting their time management.
You have a large to-do list that seems very achievable in your head! By the end of the day you've crossed off almost nothing.
Frustrating.
This is one of many time management courses available. The course syllabus includes helping professionals:
Take control of your mindset and energy levels to increase your productivity
Discover why you are not as productive as you could be and develop a plan to improve
Increase your productivity by implementing new strategies throughout your day
Create a personal plan that fits your personality and style
Instagram Marketing 2019: A Step-By-Step to 10,000 Followers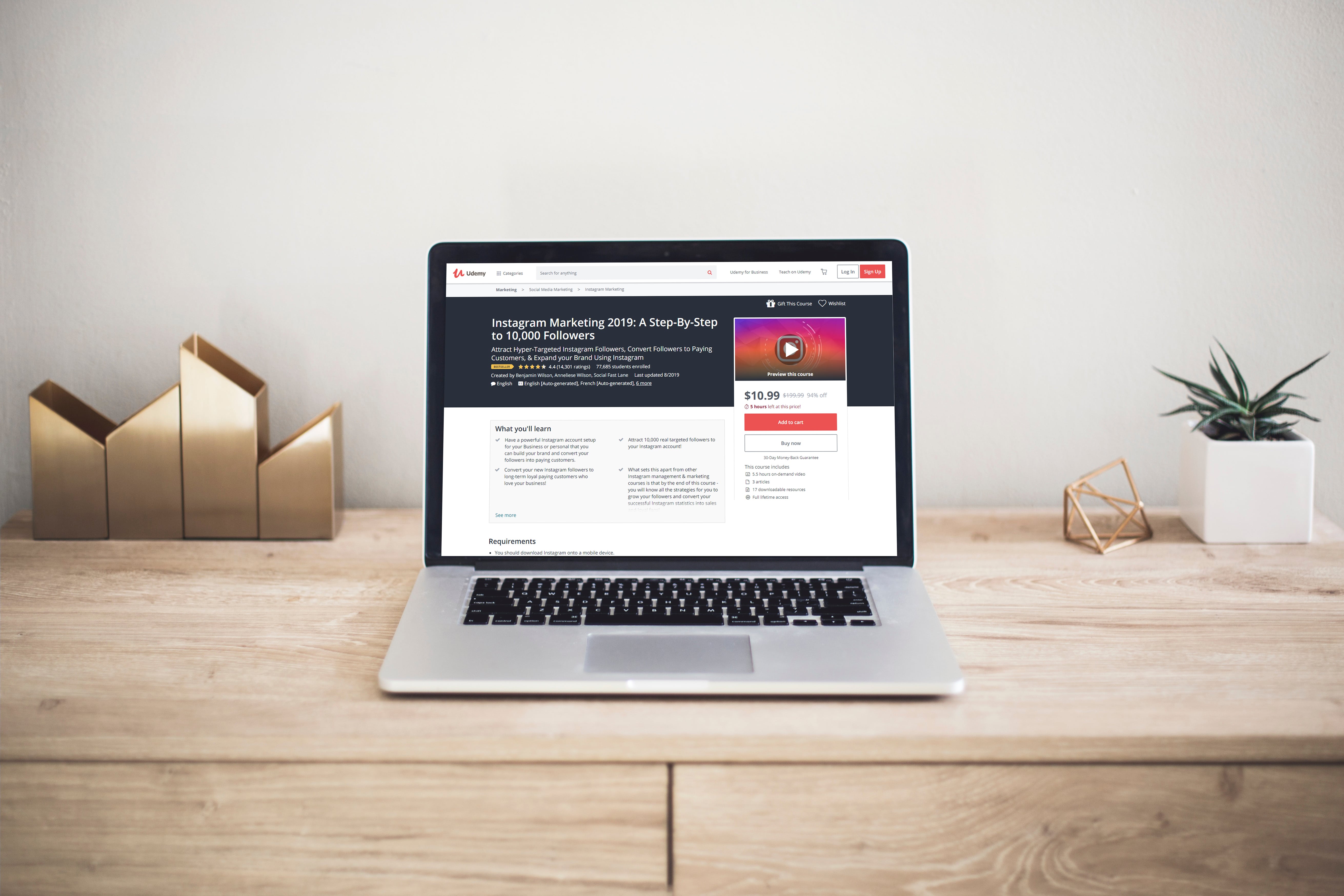 The best practices in digital marketing are changing constantly. And sometimes it's nice just to have someone walk you through, step-by-step, what to do with your social media. That way you can knock it out and move on to your next task.
There are plenty of resources for that, like this Udemy course on Instagram in 2019. The course promises to teach:
Have a powerful Instagram account setup for your Business or personal that you can build your brand and convert your followers into paying customers.
Attract 10,000 real targeted followers to your Instagram account!
Convert your new Instagram followers to long-term loyal paying customers who love your business!
What sets this apart from other Instagram management & marketing courses is that by the end of this course – you will know all the strategies for you to grow your followers and convert your successful Instagram statistics into sales and loyal fans!
We are up to date with all the new Instagram features and will guide you step by step on how to utilize these functions to grow your account and market your business.
Social media and digital marketing is one of the subjects that Udemy has numerous course on, including this other well-reviewed competitor with Instagram tips.
Aaron Novello
A lot of the real estate related content is targeted toward the real estate investor.
Some of that is useful for agents, too, like their courses on working probate leads. That is info you can still use as an agent!
But one of the few well-rated channels with agent-specific content is Aaron Novello's channel.
As of now, he has seven videos titled:
How To List More Properties In Less Time Like a Top Producer
How To Present An Offer So It Gets Accepted
How To Get a Price Reduction Like a Top Producer.
The Listing Presentation Of A Top Producer
How You Can Make 6 Figures Calling For Sale By Owners
How To Prequalify Listing Appointments Like A Top Producer
How You Can Make 6 Figures Calling Expired Listings
LinkedIn Learning
Formerly "Lynda" before being acquired by LinkedIn in 2015, LinkedIn Learning features some higher-end produced content than the more "crowdsourced" Udemy or Skillshare.
Learning Real Estate Photography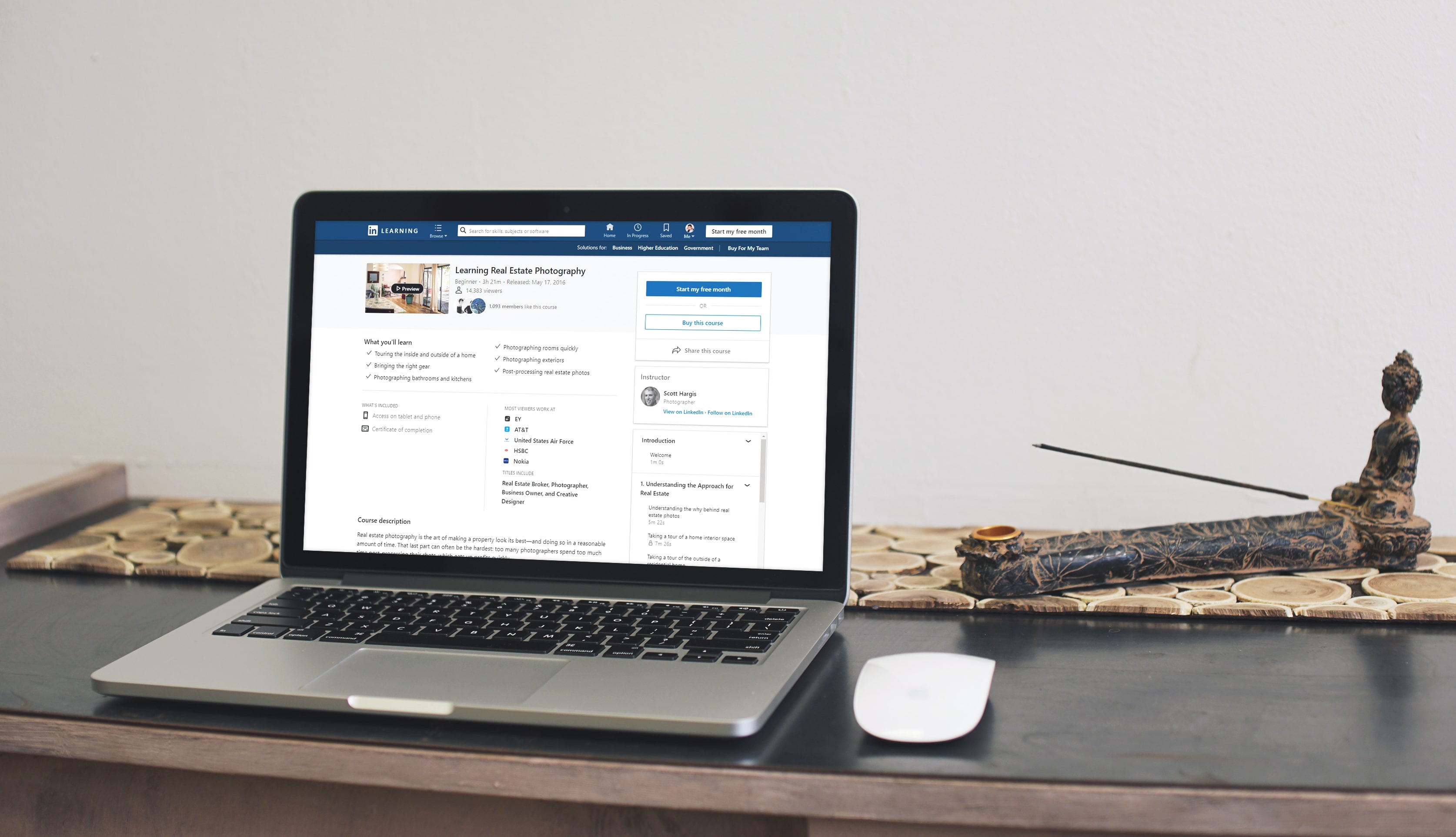 This photography course is taught by Scott Hargis, and architectural photographer in the Bay area of California. His well produced 3.5 hour course includes the learning objectives:
Touring the inside and outside of a home
Bringing the right gear
Photographing bathrooms and kitchens
Photographing rooms quickly
Photographing exteriors
Post-processing real estate photos
He has several other courses available on LinkedIn Learning including shooting twilight exteriors, bathrooms, bedrooms, and running a real estate photography business.
Advertising on Facebook: Advanced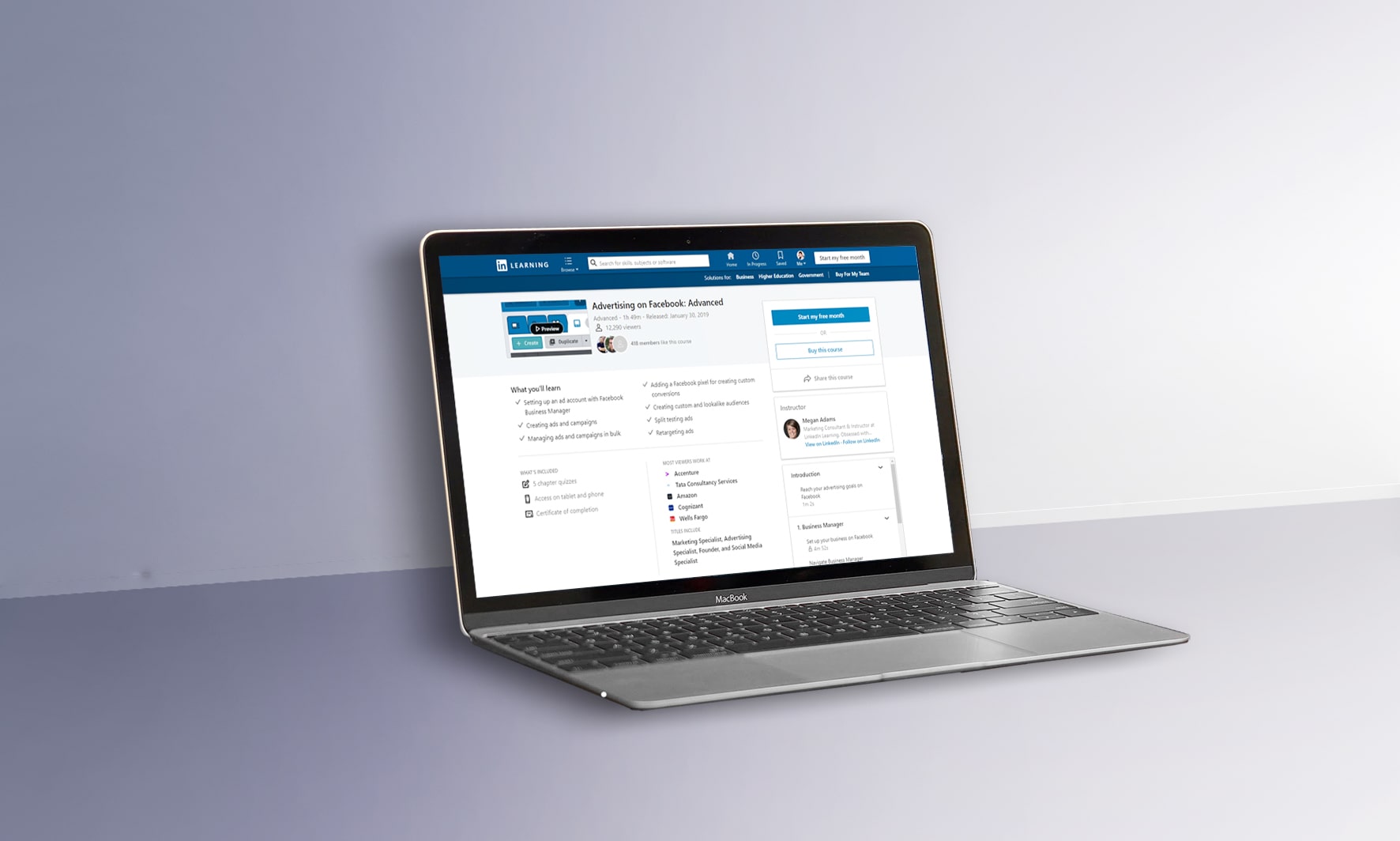 The Advanced Facebook Advertising course is one of 13 LinkedIn Learning courses from Megan Adams.
This content is designed to take your game to the next level than what you can glean in Facebook marketing groups and 1400 word how-to articles. The learning objectives include:
Setting up an ad account with Facebook Business Manager
Creating ads and campaigns
Managing ads and campaigns in bulk
Adding a Facebook pixel for creating custom conversions
Creating custom and lookalike audiences
Split testing ads
Retargeting ads
Local SEO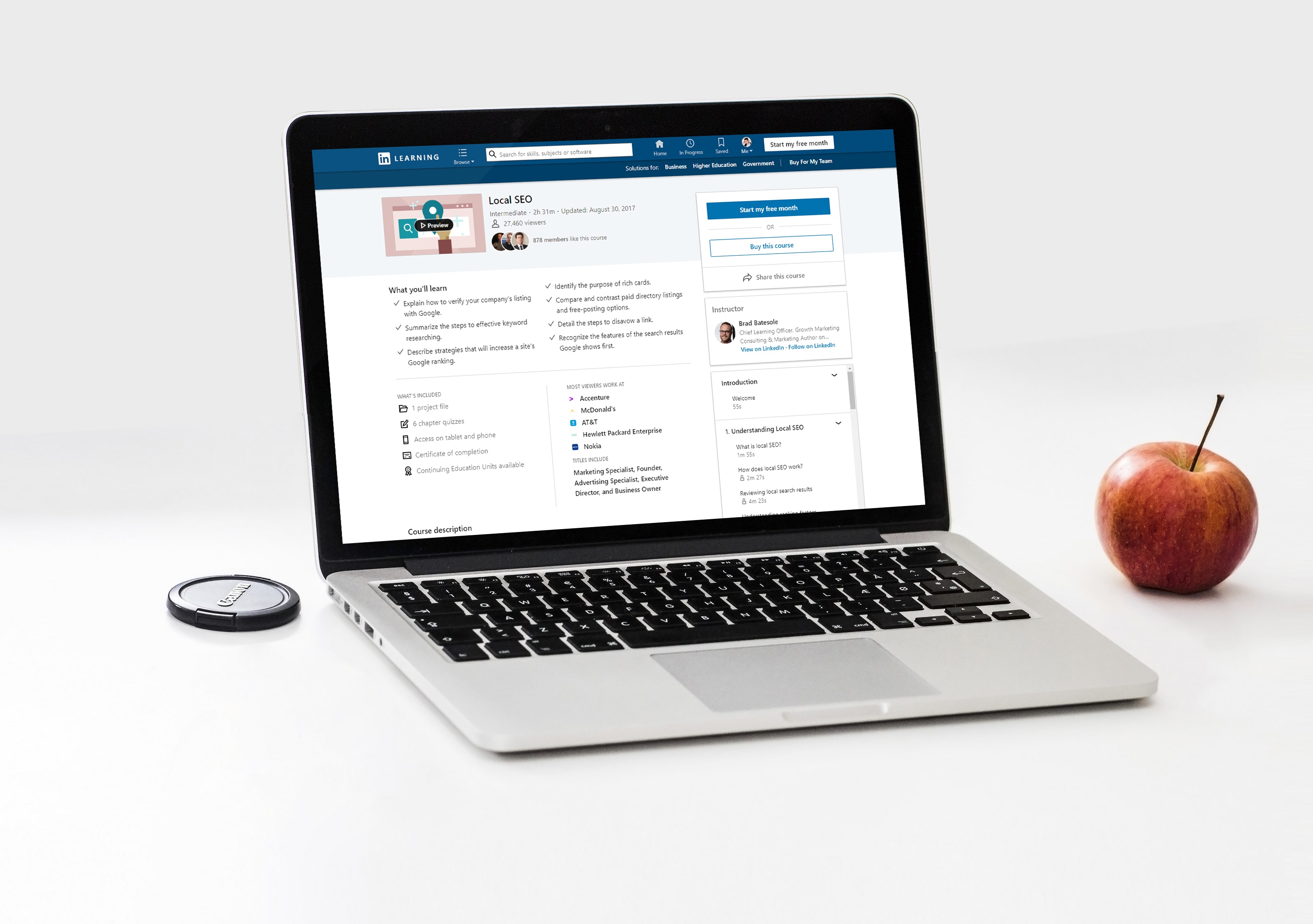 Produced internally by LinkedIn Learning and presented by Brad Batesole is this course on Local SEO! If you want to be found on Google, there is a lot you need to do. But the very first step is to ensure your website is built on a solid foundation with these first few, easy steps:
Explain how to verify your company's listing with Google.
Summarize the steps to effective keyword researching.
Describe strategies that will increase a site's Google ranking.
Identify the purpose of rich cards.
Compare and contrast paid directory listings and free-posting options.
Detail the steps to disavow a link.
Recognize the features of the search results Google shows first.
Varit Real Estate Investment Platform is one of the leading real estate investment groups in the USA. We focus is to provide our customers with trustworthy investment Plans by using the most up-to-date information on each property. Vairt is the right place to visit! We bring the most reliable and trustworthy real estate investment opportunities in the US. We offer multiple investment options for our investors. Contact vairt team at support@vairt.com / +15164447715 for any query.